I am tired.... more like mentally exhausted. It's interesting to note that when I am tired, I get so many blogging ideas while driving to work but then I don't have the freaking time to blog! Tius...
The past few days, I have just been blog surfing, more to relax relax and find a few on-line humour to keep me sane and hairy. Yes, despite my account-nut like work, I still have loads of hair as my crown - no receeding hairline and just one - only one single strand of permanently white hair.
But having only one single strand of white hair also means that I can't be a KungFu Master. Why? Don't you know that all KungFu Masters have totally white or grey flowing hair? Recall the "
Bride with White Hair
" starring Lin Chin-Hsia, or that early Jacky Chan "
Snake in the Eagle's Shadow
" or even that comic-book-turn-movie "
Storm Riders
"? Almost always you will see that the baddy-kick-ass-is-damn-fun master or the holier-than-thou-profound-sentences-muttering master has flowing white or grey hair. And how can we ever forget that LOTR
Master Gandalf
the Grey who later become the White? He had long flowing white hair, beard, a kick-ass white staff, robe and a white stallion. Cool eh? During the screening of LOTR, I thought ladies would swoon at the sight of this "pak mah wong chi" aka "prince on white horse" but then, maybe he should be wearing tights and show his bulging crotch. That should do the trick. Imagine Gandalf on the cover of Men's Health...
Who you calling old? I can ride from morning till night baby!
For reference, go ask Shadowfax

Instead of this....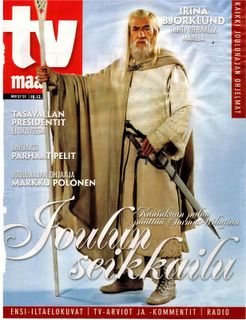 Yo Saruman! I am on the front cover! Nyak ak ak!

Anyway, did I mention that I am tired, cranky and hungry? No? Yeah, I am out of blogging juice. As I was saying, I surf the blogosphere to find funny blogs to read, hoping that they can make me laugh. I reckon if I read more kekekeke stuff I would not go down the farkfarkfark road but what do I find? Arrrghhh! I have been tagged by a
Pink Rabbit
with a meme that originated from
Minishorts
!
Since I am in such a cranky mood.....
**********************************************************************************
I'M-HOLIER-THAN-THOU BLOGGER'S BATON
THE LAST BLOG I READ WAS:
Jedi-Master
Viewtru
I THINK MY BLOG IS WAY BETTER THAN THAT BLOG ABOVE BECAUSE:
I have a more canggih banner. But on contents, Viewtru definitely wins hands down. How could he not win? That guy has 5Stars columnist
Ms Lai Ma
, an investigative reported
Dick Tomatoski
and an ex-Olympian
Chin Tu Lan
contributing to his blog! Really unfair. *sulk sulk sulk*
IMHO THE BEST ENTRY I HAVE EVER BLOGGED IS
Not in this blog. They are all in my previous Buaya69 blog. "Selection Process Part 1 and 2" comes to mind where I wrote about boobs and legs. Muahahahar! sigh.......
THE FIVE BLOGS I READ THAT MAY BE BETTER THAN MINE ARE
Viewtru
Mack Zulkilfli
Jeff Ooi
Chan Lilian
Minishorts
Dr Liew
Michael Ooi
Pok Ku
Kenny Sia
The Hustler
Simon
and so many more! ok, i went over my limitation of 5. blergh!
I KNOW MY READERS ARE ADDICTED TO MY BLOG BECAUSE:
I have a sexy on-line personality. Go figure...
I am now passing this baton to the following five people and they MUST to do the same holier-than-thou meme shit
Really? Nah, according to my Belacan Blog Maintenance Policy 16(2.5)(f)(xiii), I am not allowed to pass any baton/meme/chainmail/whateveryoucallitshit to anyone else but I can...
and the baton goes to...
(Used without permission from Kenny Sia)

***********************************************************************************
My apologies. I won't be posting at least until next week Tuesday as I will be away from office for *cough cough* some pleasure... soft sandy sand under my feet, sea breeze blowing at my face, stuffed crabs to eat.... ahhhhhh, bliss. Till then, cheerio!
Belacan says... arrrgh! i am short on shorts! nevermind, will buy them there. ;)