From today onwards, I will be using this blog to record all the unneighbourly things my crazy neighbour has done against my household. There has been so many events (e.g. knocking over and spilling my rubbish bin, poured paint over my garden patch, hosed water on me, etc etc) that I have lost count, thus it is time I record them down here. Who knows? One day I may use all these records to take legal action if she goes overboard.
Date: 7 April 2005 (Thursday)
Event:
Torn newspaper, flyers and namecards on the driveway next to crazy woman
Came home at about 1915hours and found 3 wet pages of newspaper, and many many wet flyers and namecards (plumber services, aircond, etc) which have been torn in half (herewith known as objects), strewn over the driveway next to fence wall shared with suspect.
The objects were strewn about 2 - 3 feet from fence wall, hence about the estimated distance for someone to throw pieces of paper. Likely suspect would be crazy woman, because it is not possible for someone outside the gate or from the other neighbour to throw such objects, as the distance would be too far.
The objects were also strewn along the whole of the shared fence wall with crazy woman. More evidence that the objects originated and were thrown from crazy woman's side. Utterly impossible for someone to throw from the gate fencing as the distance would have been at least 15 feet for the object furthest from the gate fencing, and that object was a newspaper page.
Illustration as follows: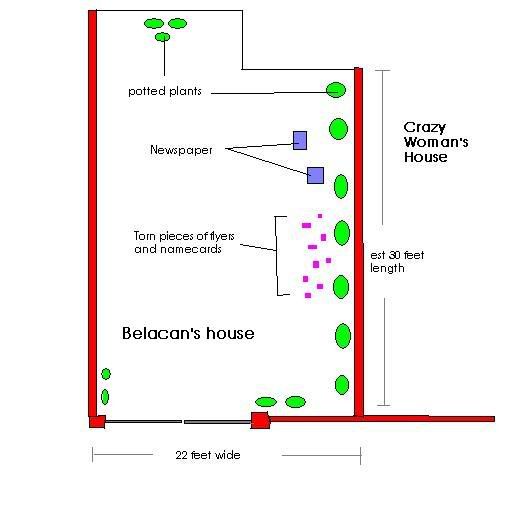 When I left the house about 10.30am and did not see such objects then. It rained in the area about 3.oopm to 6.00pm.
Conclusion:
Suspect must have torn the flyers and namecards and then threw them over the wall fence to our side, anytime between 10.30am to 3.00pm. I have also sought the viewpoints of my other neighbour at 1930hours who concurred that the objects logically can only originate from crazy woman's house.
- end of report -
Green Belacan says... "don't make me angry. You won't like me when I am angry..."
Additional Notes:
Looking at the comments received, I should explain a little bit about this neighbour of mine. She is about mid to late 30s, and stays with her more than 70 yo dad. We heard that her mom committed suicide at her brothers home many many years ago. She used to be a lawyer but has now ceased working to take care of her dad, who is a bit senile due to his age.
We can sort of appreciate the social pressures that she went through thus the whole housing row is quite symphathetic to her but then again, we are on the receiving end. She used to have loud arguments with her other neighbour but that family has since upgraded. Presently, a very nice family has moved in and they are also very tolerable of our common neighbour.
As long as she does not harm my family or overly damages our property, I think we can live with her, for now....
Thanks for commenting ;)